Sarah Pyatt
BSc, MSc, CGeog (GIS), FRGS
GIS Team Leader
Mott MacDonald
As stated in the IEMA primer, Digital IA is relevant to all stages of a project life cycle. It is a collection of data, technology and behaviours, rather than any one individual tool. All these different aspects can be used together for consistency and efficiency across the assessment process, but there needs to be certain management procedures in place to do so. This article provides an overview of key considerations for data management, the digital tools that this enables when applied effectively and how this approach is being followed on Crossrail 2.
Quality and Control
Data underpins the whole digital process. It is continuously evolving and increasing as the user needs change and design maturity increases. We need to understand the flow of data across the different stages – who needs what, as well as when and why they need it. It is this availability of data that enables the different digital tools and technology.

Infrastructure projects are moving towards having a single source of data, or Common Data Environment, which all users can access, regardless of format or the software they are using. Progress is being made towards this by having connected systems and procedures in place to manage data exchange between them. Conversions and exchange of data are getting quicker and easier with automation and improved systems architecture, but we also need to ensure there is control of quality and versioning throughout. Automation, analytics and data driven reporting are only possible if quality and standards are agreed, followed and regularly checked.
In Practice on Crossrail 2
An example of this approach is Crossrail 2 where TfL, Network Rail and their consultants are using a Common Data Environment underpinned by a Digital Strategy, standards, methods and procedures. The MTEW consortium (Mott MacDonald, Temple, ERM and WSP) are providing environmental and sustainability services for the project. As part of that contract, Mott MacDonald are providing the single web GIS platform which is part of the project's Common Data Environment. Accessibility and currency of data is vital for such a large project to ensure all project teams are using the same information for a consistent, common understanding of the project and its surrounding environment. A robust spatial data methodology that is owned and led by the client has been applied throughout the project to drive lower costs and higher value through improved information management. This data management has enabled the digital approach across the environmental assessment, including the opportunity to present this data digitally at the scoping stage.
The Learning Legacy from Crossrail provides a case study on how geospatial data has been used as a key element in the flow of information throughout the development of this major infrastructure project.
Data, data everywhere…
Impact assessments require huge numbers and amounts of data to be collected and acquired, from a vast range of sources including surveys, design teams, statutory bodies, external data providers, local authorities and modelling results. If this was to be done in different ways by multiple parties, there would be duplication and differences. If the data being used for one part of the assessment is different to another, the answers and outputs are not going to be compatible or comparable. This is why data must be managed centrally in a transparent, accessible and secure way where all the different user needs are understood and accounted for.
This process has not been without barriers and problems. The provision of data from design teams to others on the project, including environmental teams, often faces a difference in terminology and language when looking at exchange between BIM models and GIS. The actual conversion can be relatively easy and is continuously improving. It emphasises and relies on standards and quality assurance being followed. The main barrier tends to be a difference in how data is structured and the level of detail that are needed by an engineering team compared to environmental, land and consents. These user requirements are critical, especially in early phases on a project and must be understood and communicated from the beginning. It is important that there are regular reviews of the requirements and whether the current data management procedures meet them.
The Gemini Principles published by the Centre for Digital Built Britain outline the approach to information management across the built environment that can be adopted in development of a National Digital Twin. These principles can also be applied throughout the Impact Assessment Process for effective and useful information management.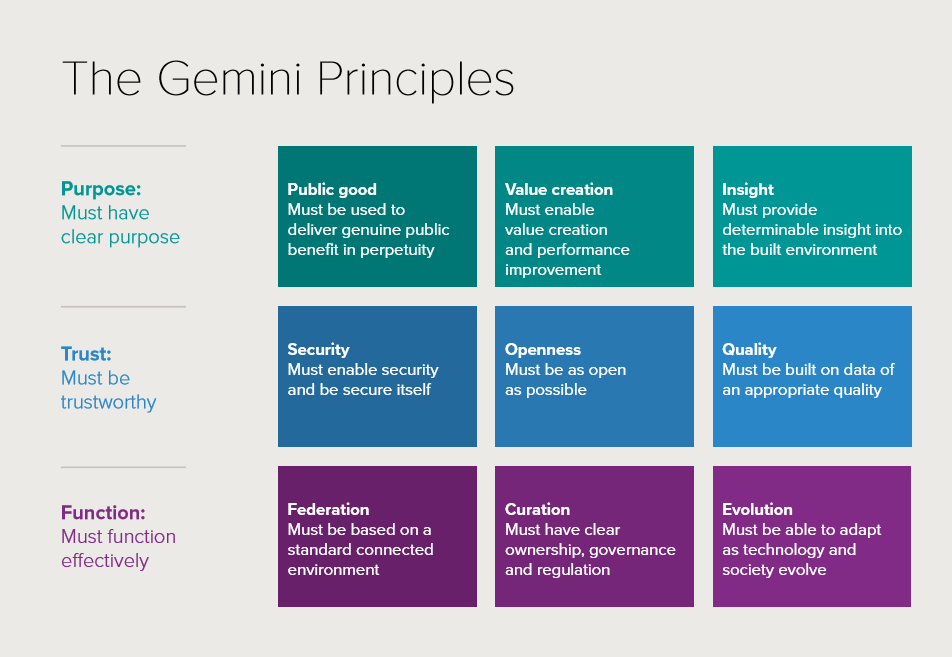 Informing the Design
It is important we also look at how environmental information is fed back into the design development, not just in early stages, but throughout detailed design, construction and operational modelling. It is important that this information is also produced in a way that meets the requirements of the whole team and can be used without having to be recreated or interpreted from different formats. Currently this communication is still largely through text and reports, but this needs to move to a more digital approach by utilising all the technology available for this important information to be considered, understood and applied in the latter stages of development.

Data for Digital Communication
As well as communicating environmental information within the project team, the output methods for sharing impact assessment results with the public and stakeholders is also becoming more digital (see Ross Stewart's article). These digital communication methods create huge opportunities to help drive the approach throughout the rest of the IA process. If the end output can be data driven, then the whole assessment needs to enable that. This is what we have seen on Crossrail 2.
How data is captured, what the purpose was and the accuracy of it must all be detailed within attribution and metadata. This information about data is vital in understanding the different levels of details at each stage, as well as whether it is suitable for a different purpose. This is particularly important between stages and where handover of data takes place. These standards and the data must be led, owned and assured by the client, with support from the consultants.
Data that is shared throughout the IA process must be accurate, fit for purpose and meet quality standards in order for the digital tools that use it to be effective and beneficial. These data management measures are required at all stages to help enable a digital way of working that will lead to delivering better outcomes for all.