Ross Stewart
BSc (Hons) MSc MIEMA CEnv
Principal Environmental Scientist
AECOM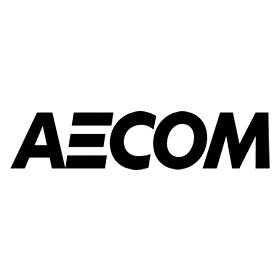 The Status Quo – Obese. Impenetrable. Unengaging
Delivery of an environmental impact assessment (EIA) requires the preparation and publication of multiple externally facing reporting outputs – chief among them the environmental statements (ES). Often described as 'obese' and 'impenetrable', these documents communicate essential information but the sheer weight and complexity of them make it difficult for stakeholders to access and digest it. At the other end of the EIA reporting spectrum, the ES Non-Technical Summary (NTS) is often accused of being too high-level and lacking context, so being void of useful information.
Experience of public consultation demonstrates that stakeholders, including those with a material interest in a scheme, are struggling to properly engage with these traditionally formats, suggesting that we're failing to maximise the potential of the stakeholder engagement and consultation processes.
Digital Reporting, the web-based integration of spatial data, visualisations and other forms of media with the text narrative, presents itself as the sweet spot between too much and too little, as a medium that encourages participation and increases the value of our outputs by making them more accessible, more engaging and more readily understood.
The State of the Art
More than one way to skin a PDF
Though still in its infancy, there seems little doubt that Digital Reportingwill continue to grow in relevance and prominence going forward. As EIA practitioners reflect on what Digital Reporting might mean for them and their clients, we are seeing several approaches to the digitalisation of our reporting outputs, a reflection of the wide range of tools and techniques available to us.
Off-the-Shelf Solutions – The pioneering use of ESRI's StoryMap software by Royal Haskoning, in 2017, demonstrated the potential for off-the-shelf products to deliver this much-needed digitalisation. Since then, Haskoning, with its StoryMap-powered iReport, has been prolific, and use of the ESRI tool is increasingly more widespread. StoryMap benefits from ESRI's ongoing support and maintenance, as well as integration with ESRI's ArcGIS, a staple of most in-house GIS teams. However, off-the-shelf products lack the tailoring and freedom of other approaches and practitioners should be mindful of ongoing licensing requirements.
Purpose-Built Solutions – An alternative approach is the development of novel solutions, such as AECOM's proprietary Digital Reporting Platform. Purpose-built solutions are the product of subject matter experts coming together with software developers to address specific problems and allow for greater flexibility and creative control compared with off-the-shelf products. This approach doeshoweverrequire upfront investment and ongoing maintenance commitments.
Bespoke Websites – The development of bespoke websites is also an option. The bespoke website approach offers high-quality presentation and visuals, with a slick finish, but perhaps lacks the depth, interactivity and scalability of other approaches.
Digital Reporting in Practice
Discussion of Digital Reporting has, unsurprisingly, focused largely on the digitalisation of the ES, the NTS, or a combination of the two, and there are some compelling examples of these: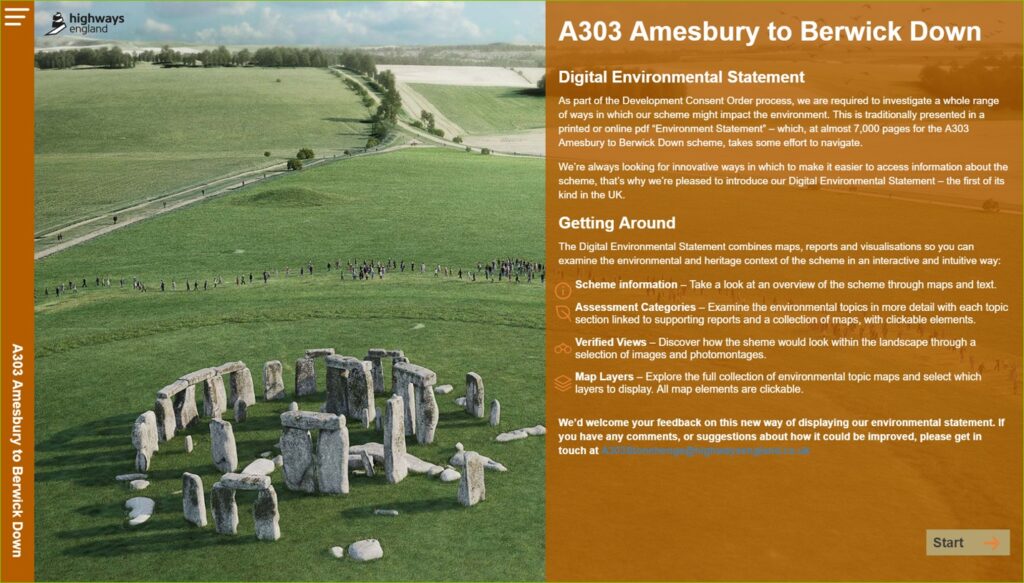 The A303 Stonehenge Digital Environmental Statement, developed by AECOM, for Highways England, uses the NTS narrative and full environmental baseline, presented spatially, with unique baseline descriptions of each receptor and page-specific links into the full 7000+ pages of the ES to give layers of EIA 'story', from receptor name to full impact assessment.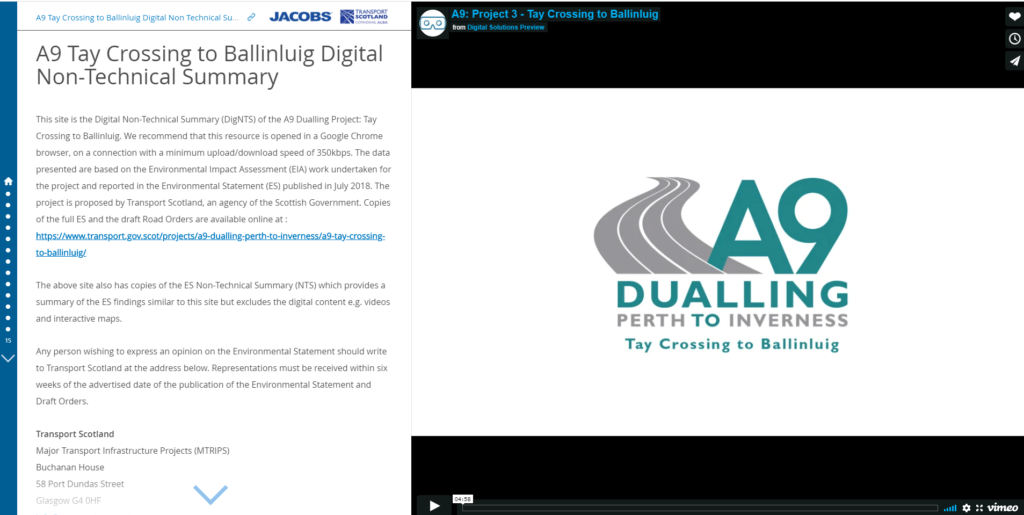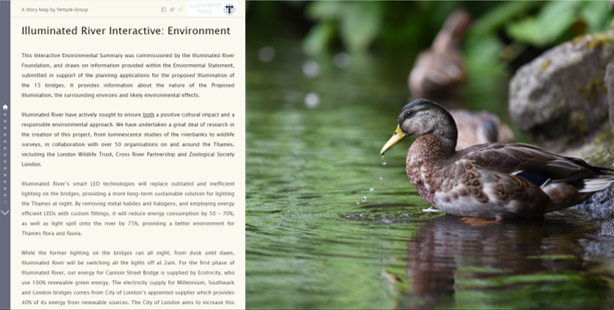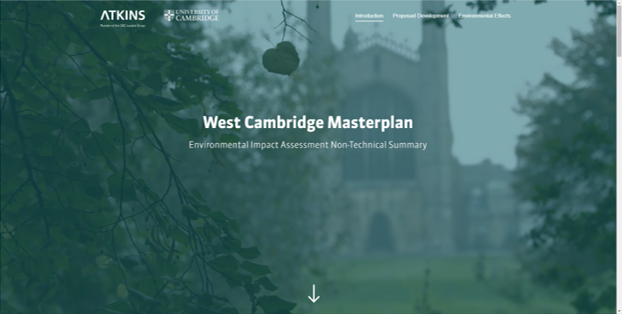 However, the benefits of digitalisation should not be solely reserved for these aspects of EIA, and a look further afield highlights a plethora of business-as-usual reporting outputs that are in dire need of a digital face-lift. Some examples of non-ES digitalisations include: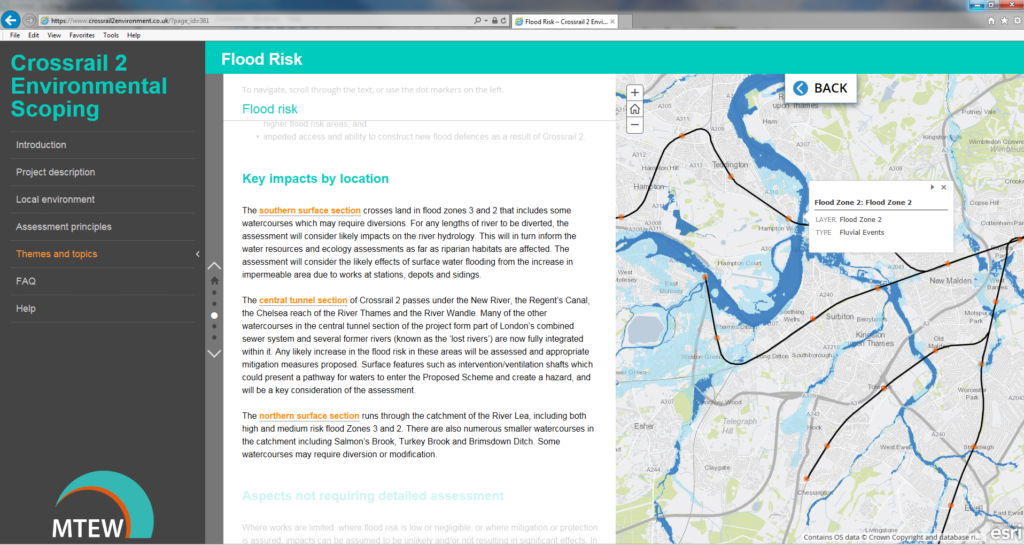 The Crossrail 2 Environmental Scoping platform, developed by MTEW consortium, with Transport for London, integrates a Content Management System (CMS), ESRI StoryMaps and stakeholder comment database to present, share and capture feedback on the Crossrail 2 Environmental Scoping.
The Bradwell B Interactive Stage One, developed by AECOM for Bradwell B Gen Co. Ltd is an example of a digitalised consultation report. Launched in support of the Stage One Consultation to compliment the traditional formats, the website provides an interactive summary with links to the more detailed consultation information and the consultation questionnaire.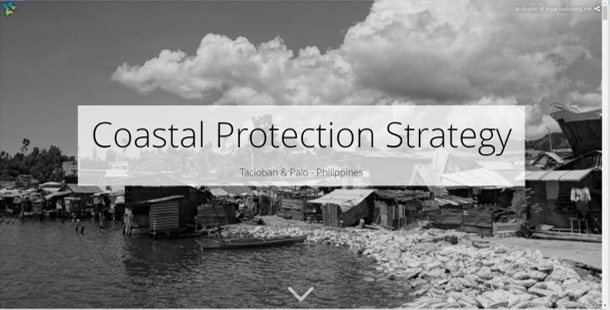 In support of 'traditional' submissions, each approach has merit, and each digitalised document will add value to the projects on which they are implemented. And while we are still required by statute to prepare and submit pdf, and in some cases print, documents, it doesn't really matter which approach we take, only that the industry is working with clients to push boundaries and make projects more accessible.
Next Steps – Can 'Digital' replace 'Traditional'?
The implications of a wholesale move to digital reporting, in particular as part of a holistically digitalised EIA, are tantalising, with far reaching implications for better decision making, workflow efficiency, more accurate assessments, streamlined consenting and more effective monitoring and management. But are we ready to go there?
Engagement with regulators and key Digital EIA stakeholders suggests no, not yet. There are several blockers to the wholesale migration to the digital format, with the legislative requirement for pdf and print submissions being the most prominent, and lack of standardisation being a close second.
However, as clients increasingly invite practitioners to 'innovate' as a requisite for winning work and as examples of Digital Reporting and other aspects of Digital EIA are more frequently cited as best practice by statutory stakeholders, these approaches will move from leading-edge and fringe to business-as-usual, with regulation catching-up in due course.