Georgina Cutler
BSc (Hons)
GIS Practice Lead
Royal Haskoning DHV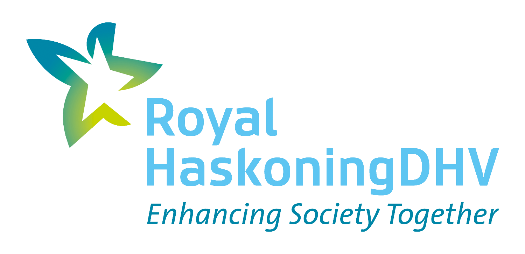 In recent years practitioners across the IA industry have recognised the benefits of utilising data and digital technologies throughout the lifecycle of a project including post consent and beyond. Nowadays there is a greater focus on a joinedup approach where data gathered and managed during the assessment phase is then passed on to help reinforce post consent activities. The quality and ability to share data becomes fundamental when changing ownership throughout the different project stages and can vastly increase productivity. If data is packaged and made available from the assessment stage, even with years in between, it still provides a useful baseline to feed into the project's environmental management and monitoring plans.
Generating value from data
Greater availability of data and tools can facilitate a more in-depth and transparent refinement process during the assessment phase which in turn reduces the risk of vast amounts of rework during post consent. Throughout the implementation/construction and operational phases information will come from a variety of sources including consultants/contractors, construction teams, consenting authorities and key stakeholders. In amongst these, practitioners are faced with the challenge of spending a lot of time gathering and reporting on data, dealing with complex and disconnected platforms, and a lack of knowledge transfer between projects. Common Data Environments (CDE) and shared digital platforms can be put in place to reduce these issues while managing alterations and proposed mitigations as they arise. These systems have the ability to automate data analysis, forecast environmental risk, automate reporting and evaluate compliance against a given set of conditions. There are numerous environmental risk management platforms already available off the shelf depending on the scope and functionality needed.
There are many tasks that are required to take a project from post consent through to construction and monitoring including the creation of management plans, carrying out site specific surveys, and acquiring permits and licences.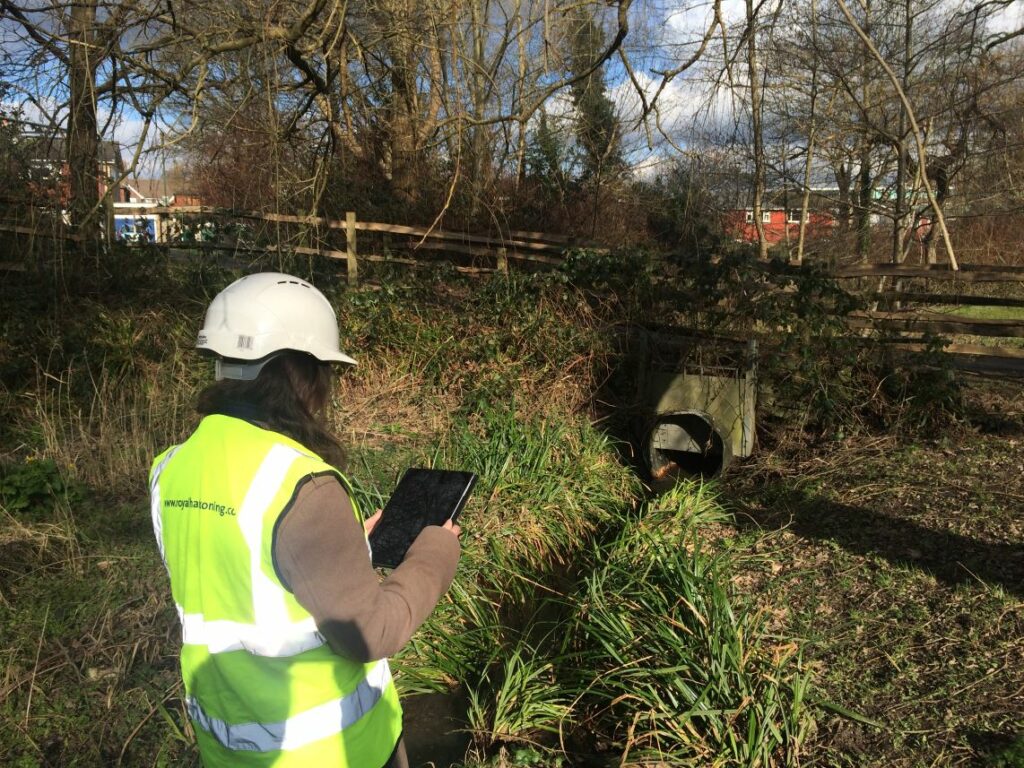 Digital Tools in Practice
Mi.License has been developed by Royal HaskoningDHV for permitting of industrial sites in the Netherlands. It is a digital platform to collate and share all the information required for permit applications and gain agreement across multiple stakeholders in order to develop industrial sites faster and with lower impact. The goal of Mi.License is to make the licensing process faster, more transparent and easier to understand. Mi.License combines the gathering of information, establishing the legal framework and generating the application in one step. As a result of standardisation and automation, the time is shortened to arrive at an admissible permit application and has currently been used to carry out a revision permit for DSM Emmen.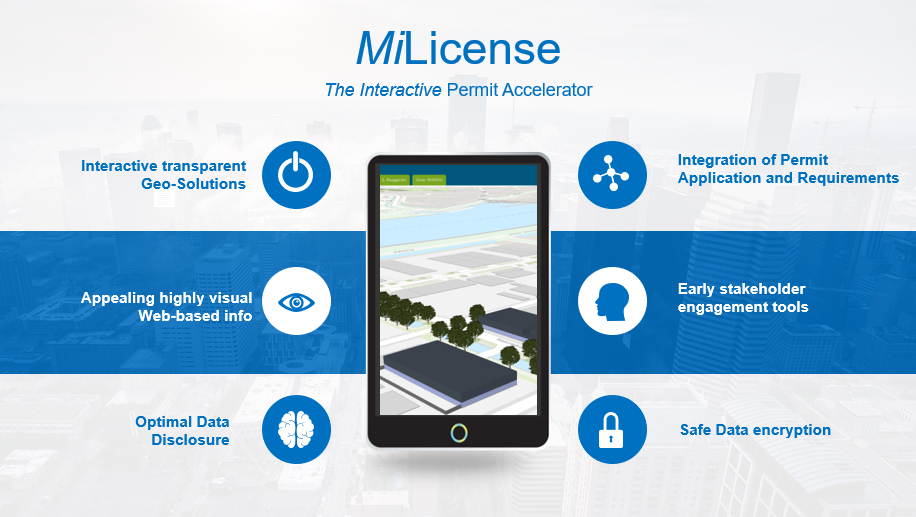 As part of the Bacton Sand Engine project, Royal HaskoningDHV developed a Digital Sand Engine Twin. Essentially, a 3D model of the beach, fed automatically by regular surveys, and a module that enables semi-automated predictions of future beach development, to identify when the triggers for intervention are reached. The tool was provided in a web-based portal with other functionality needed for fulfilling the client's beach management role.
To support coastal monitoring surveys Royal HaskoningDHV created a tool for the Environment Agency to report on their asset monitoring data. RHDHV regularly undertake asset inspections for the Environment Agency on both coastal and fluvial assets across the UK. The traditional approach was paper based reporting with large amounts of raw survey data being stored away out of sight. As part of a drive for digital innovation, the NICAS project team (Non‐Invasive Coastal Asset Surveys) provided the EA with an online reporting tool using ESRI's Storymap functionality.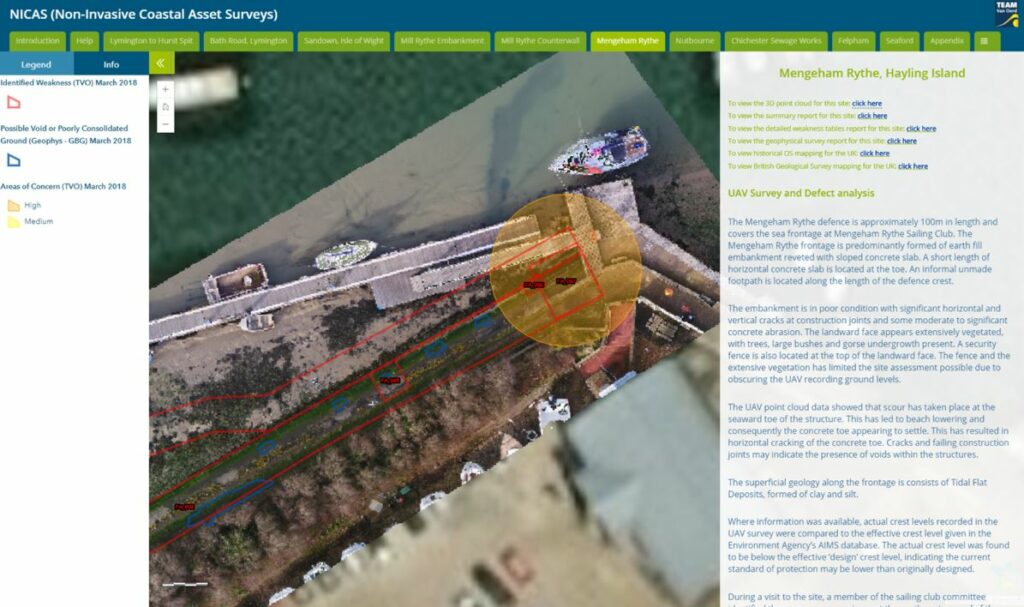 A recent set of asset inspections were undertaken using a combination of UAV drone and geophysical surveys for a defined number of assets including sea walls and embankments. The data was then analysed in-house to identify defects and areas of concern along the length of the assets. The customised report provided the client with an interactive digital platform, allowing them to interrogate the asset analysis and the UAV data stored on the cloud. This method of reporting significantly enhances the traditional methods of asset inspection, with geo‐located defects identified on the 10 interactive maps covering sites across the south coast. Embedding a point cloud viewer also gave the client access to the raw data from the UAV surveys, removing the need for specialist software and high‐end hardware.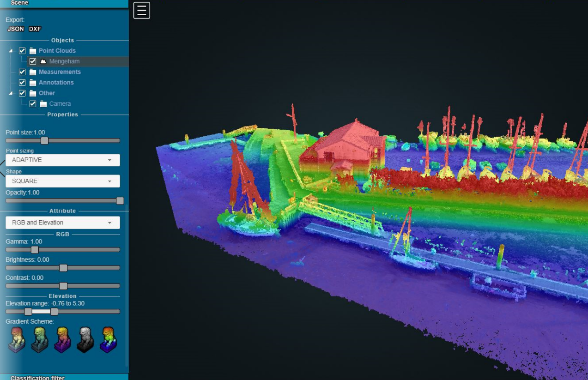 The use of digital tools will create many opportunities in the management and coordination of post consent activities. Online management systems and communication platforms will provide the basis for successfully coordinating tasks, while high end visuals such as data viewers and dashboards provide clear reporting and direction of effort. On-site data collection tools play a key role including UAVs, mapping tools and automated forms and it is this combination that enables teams to effectively communicate environmental risk and mitigation.